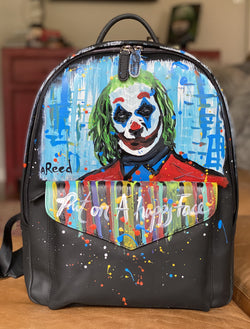 "Put On a Happy Face" Austin Reed x SOFTLI Hand-Painted Leather Backpack
This is a SOFTLI x Austin Reed Custom Hand Painted Leather Backpack. (Exclusive - Final Sale)
Once your order has been placed, Austin will begin hand painting your custom backpack. You can expect this process to take up to 2 weeks. Please note that every piece is individually hand painted and may appear slightly different from the product picture above.
If you have your own ideas for a different custom bag, or would like to make any changes, just leave your ideas in the Notes section when checking out. We will follow up via email to ensure we understand your ideas fully!
About the Artist
Austin Reed is an international American contemporary artist known for his unique fusion of styles referencing from city streets, human figures, and abstract influence. He has found inspiration from many different forms of painting and tries to implement them into a unique style of his own. Reed is a mixed media artist who is driven by his own imagination to create works of fine art which consistently grab attention and express his current feelings. Incorporating elements of street views, human forms, and abstract textured layering into his varied compositions, Austin combines conceptual photography references and cityscapes, along with poetics and historical events to explore an eclectic range of media. Born in 1989 in Ventura, California, Austin came to San Diego in 2013 to pursue his tattoo career. Although Reed's background and training is in tattoo art, the two-dimensionality and the pedestrian nature of the painting media drove him to find a far more expressive outlet in contemporary art. This rebellion against figurative illustration motivates Reed's use of texture and mix of finishes. He is now in the studio doing mixed media paintings daily expanding to multiple San Diego art shows and galleries, while also doing custom pieces.
For more info, check out his website: www.austinreedart.com
Painting Process and Care Instructions
Austin first wipes down the area of the bag that he plans to paint over with an Isopropyl Alcohol. This removes the oils and waxes on the surface of the leather which will allow the paint to adhere to the leather. After he has finished the artwork on the bag, he puts a protective spray, or a layer of clear acrylic paint over the painted areas. This ensures that the artwork is as protected as it can possibly be. We expect the paint to hold on the bag extremely well!
Technically, the bag and painted areas should be able to withstand getting wet. However, we wouldn't recommend keeping the products outdoors, and would consider them somewhat fragile.
Warranty & Returns
The Lifetime Warranty does not apply to the artwork that is painted on the backpack. It only applies to any and all manufacturing defects (Leather, Zippers, Hardware, Etc.).

All Exclusive items are final sale!
Email us at info@softliseattle.com with any questions or concerns.
Features 

Full Grain Crazy Horse Leather
100% Premium Cotton Lined Interior
Silver Toned Hardware
YKK Zippers
Padded Laptop Compartment (Up to 15 inch Laptop)
Interior Zipper Pocket for Valuables
Outter Zipper Pocket with Magentic Envelop Flap Cover For Phone/Accessories
Leather Reinforced Bottom
Adjustable Padded Shoulder Straps
Dimensions

40cm (H) x 31cm (W) x12cm (D)
SOFTLI Shipping Policy
We ship to the following countries:
North America: United States, Canada, Mexico
Europe: United Kingdom, Ireland, France, Germany, Norway, Sweden, Denmark, Finland, Iceland, Belgium, The Netherlands, Luxembourg, Italy, Vatican City, Spain, Portugal, Switzerland, Liechtenstein, Austria, Monaco, San Marino, Greece, Croatia
Asia: Hong Kong, Singapore, Japan, South Korea, Macau, Taiwan, Malaysia, Thailand, Vietnam, Cambodia
Oceania: Australia, New Zealand
Middle East: Israel, United Arab Emirates
Orders typically ship within 1 business day of when you place your order. If there is a public holiday this may extend to 2 business days. 
** Any packages that are not received due to negligence on the part of the customer/recipient, are refunded once received by the SOFTLI warehouse. Please note we will deduct the cost of shipping to and from the destination country, as well as any applicable duties and taxes.
Email us at Info@SoftliSeattle.com with any additional questions
SOFTLI Return Policy
If for some reason you are unsatisfied, you may return eligible SOFTLI merchandise. However, this must be done within 30 days of receiving your order, and the items must be unused and in original condition (Including all original packaging). All returned items must meet the above terms, or they will be shipped back to you at your expense.
What Items Are Not Eligible For Return?
We do not offer returns on products marked "Final Sale". All hand-painted products and Exclusive Releases are "Final Sale" and therefore not eligible for return.
Express Shipping fees will not be refunded.
We do not accept returns for any Bulk Orders or Wholesale Orders (Orders of 5 or more of a single product). The only exception to this would be if the product(s) have manufacturing defects such as a broken zipper, ripped leather, broken watch, etc.
SOFTLI Return Process
Customers in the United States: Email us at Info@SoftliSeattle.com with "RETURN" In the subject. We will then send you a return label to use for the return shipment.
Customers outside of United States: You will be responsible for the costs associated with the return. You may ship with any carrier you choose. (We recommend you receive tracking numbers so that you are protected in the event of theft or loss during the delivery to SOFTLI.)
**Email us at Info@SoftliSeattle.com for the return address
Exceeded expectations!
I had asked if they could do a custom of this for me and wow, that really exceeded my expectations. Super easy to work with and made sure to keep me in the loop every step of the way. Very pleased!